Aquamarine  |  Connections: How colour interacts with the wider world
Source  |  Connections  |  Physis  |  Sense

Lily Cole wearing a Stella McCartney gown, 2005
© Tim Walker

"Of august gold-wreathed and beautiful
Aphrodite I shall sing to whose domain
belong the battlements of all sea-loved
Cyprus where, blown by the moist breath
of Zephyros, she was carried over the
waves of the resounding sea on soft foam.
The gold-filleted Horae happily welcomed
her and clothed her with heavenly raiment."

⎯⎯ Homeric Hymn to Aphrodite, Demetrios Chalkokondyles, 1488.


We begin on the first floor of the Uffizi Gallery in Florence. A goddess balances on a scallop shell, radiantly naked, wisps of copper hair floating like tentacles. The shell drifts on a sea of aquamarine, pushed by the breath of Zephyros towards a young maiden on the shore, waiting to wrap her in sumptuous cloth. This is the birth of Venus, also called Aphrodite, the goddess of love, beauty and sexual pleasure, as imagined by Sandro Botticelli in the 1480s.


Birth of Venus, Sandro Botticelli, 1482-1485 © Public Domain

In the legend set down by Hesiod, Aphrodite rose out of the breaking waves near Cyprus, formed out of airy sea foam by the severed male parts of Uranus (the sky), who was unmanned by his son Cronus (time). Aphrodite's beauty was unsurpassed, born of air, water and the divine, and it inspired one of the most admired paintings of all time. Art historian Ernst Gombrich suggests Botticelli was evoking the idea of divine love: an earthly goddess who aroused humans to physical love and a heavenly goddess who inspired intellectual love. To the artist, working on a gesso tinted aqua, true love was a delicate balance of the heart and mind.


Aquamarine, 2019 © Andrea Hamilton

When ancient worshipers found a radiant gem the colour of sea water, hidden in the earth, they called it the 'Stone of Aphrodite' and named it aqua marina. For centuries this semi-precious mineral was carved into the figure of the goddess and given to sailors as a talisman for safe passage. It was believed it would provide calm seas for the wearer, or if storms blew in, they would throw it into the waves to expiate the ocean. There is no getting away from its colour associations – in Tim Walker's exquisite image of Lily Cole (above), even in haute couture she looks like a mermaid, a seductive siren called away from the shore's sharps edge.

Aphrodite's throne was inlaid with beryls and aquamarines. Romans believed it would absorb youthful love and radiate it back, and so the practice of giving the stone to newly-married couples – something blue – was born. Aquamarine is also the traditional gift for older love, celebrating the 19th wedding anniversary, as it was also believed to have the power of reigniting old love. Its lucent beauty has adorned the finest hands in history, most recently when Prince Harry gave Meghan his mother Diana's aquamarine ring.


Princess Diana's Aquamarine Ring
2018 © EFFERVESCENCE GROUP

In May 2019 Christie's had a rare aquamarine treasure at auction in Geneva in the form of a Fabergé tiara, made in 1904 as a wedding gift from Frederick Francis IV, Grand Duke of Mecklenburg to his bride Princess Alexandra of Hanover and Cumberland. The Duke's mother, the Grand Duchess Anastasia Mikhailovna of Russia, was a passionate Fabergé collector, and commissioned a special tiara for the Royal Wedding, although sadly it was not produced in time but given later. Composed of nine graduated pear-shaped aquamarines set with cushion and rose-cut diamonds, with a delicate design of forget-me-not flowers tied with ribbon bows, it sold for more than a million Swiss francs.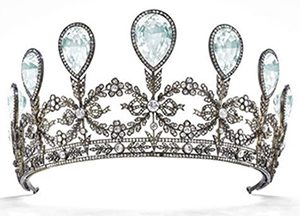 Aquamarine & Diamond Tiara, Fabergé,
1904 © Christie's Images Limited

This luminous stone is poetry itself. The colour of love and clear-sightedness, released from the dark underground, yet echoing the blue-green girdle encircling the earth, as beautiful as an iceberg, compressed with centuries of meaning. As Franz Kafka said, in conversation with his friend Gustav Janouch, "The truth is always an abyss. One must — as in a swimming pool — dare to dive from the quivering springboard of trivial everyday experience and sink into the depths, in order to later rise again — laughing and fighting for breath — to the now doubly illuminated surface of things."

Source  |  Connections  |  Physis  |  Sense
Other Newsletters: